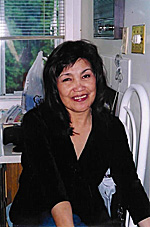 My name is Berna Beaulieu. I am originally from the Northwest Territories and a descendent of the Dogrib Treaty 11, Tłįchǫ Government. I was born, raised, and educated in the NWT. I had made sewing and designing a part of my life. After taking a lay-off package from the Territorial Government, I began a home-based business in 1997 when I realized that the unique traditional beadwork/embroidery designs of my people were dying off with the older generation. Determined to preserve them (and inspired and encouraged by my family, friends, and the aboriginal elders), I began reviving the traditional designs and modernized them into one-of-a-kind works of art. Creations By Berna had gained recognition for unique designs in specialty areas of traditional ceremonial clothing and customized bridal and formal wear.
Fashion show at the 1998 Arctic Winter Games was the turning point for my business. The highlight of my career was when Government of the Northwest Territories invited me to the Trade Show and Fashion Show in Munich, Germany, February 2002. I had also received from the Governor General of Canada, the 50th Anniversary Queen's Jubilee Medal and Award for making significant contribution to my community and Canada through fashion shows and trade shows nationally and internationally.
Another turning point was when I had entered into a rough road of my personal life and made a tough decision to leave my family, friends, and business to return to school. It has been tough three years (2002-2005) at the Yvonne Yuen School of Designs in Saskatoon, Saskatchewan but I'm glad I had made the right choice when I did. I didn't know it at the time but education was the healing tool that I needed to overcome my depression. I had also gained more knowledge in designing and achieved all my education goals. I then took a year off for more personal healing. At the most crucial point of my life and at a retirement age, I made another tough decision to return to school to obtain a diploma majored in Business Admin/Computerized Accounting. I had just graduated from Alberta Career Computer Center of Edmonton and am now fully into my home-based business "Wedahti Fashions".
With a 1st year Fashion Designer Certificate, 2nd Year Professional Fashion Designer Diploma, a 3rd Year Fashion Merchandising Diploma, and a Business Admin/Computer Accounting Diploma, I aim to keep traditional designs alive by actively supporting and encouraging the culture and heritage of the aboriginal people in a positive way through my chosen profession.
Contact Wedahti Fashion: